Fifth Anniversary Challenge
The end of October marks five years since the creation of the Moonshadow Tribe. In honor of this milestone we issued a challenge to tribe members to use any or all of the symbols of a fifth anniversary to inspire a story. These symbols are wood, daisies and sapphires. Hope you enjoy the results which come from many different fandoms.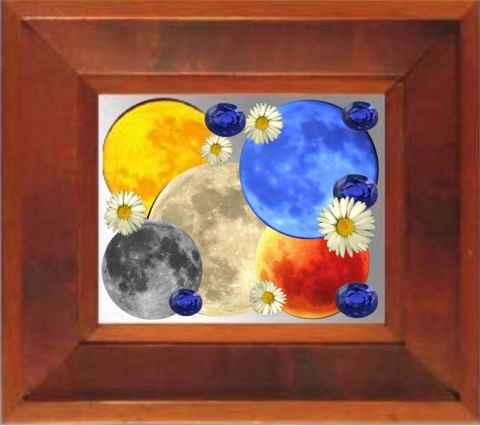 Picture courtesy of our own Sabina
Anniversary Fics
Original - Daisy's Witch Board By Dollparts
Facing some fears.
New Jan. 16th
QAF - Gothic Novel By Dale
Justin is reading a manuscript for a novel.
X-Files - Mosaic By Sabina
Walter and Alex celebrate an anniversary.
QAF - It's a Fucking Daisy! By Thyme
Post 513, Brian visits Justin in New York.
Gorgeous Carat - Drowning in Blue By Astra Plain
Note: Set in 1900 Paris, Gorgeous Carat is the story of Florian
Rochefort, a penniless aristocrat who was sold to Count Ray Balzac
Courland (aka the notorious jewel thief Noir).

QAF - The Gospel According to Brian Kinney By O.G. Walton
There comes a time in every boy's life...
Charmed, Harry Potter, QAF Crossover - You Are Loved By Celtic Wolfster
Chris and Wyatt have gifts for Harry and Draco with the help of Brian and Justin.
QAF - TF Shows YOU How to Show YOUR Man He's Loved on That Special Anniversary By Twinflower
Brian and Justin are about to celebrate an anniversary.
QAF - Here's to Us, Who's Like Us, Damn Few By Arwensong
Brian, Jennifer and Joan all have something in common.
The O.C. - Forever in My Heart By Twinflower
A special anniversary.
The Sentinel - Rain By Cheryltx
Jim and Blair have been together for five years.
LEXX, Sapphire and Steel, QAF Crossover - Irregularities in Dimension By Ela
Brian Kinney vanishes and Sapphire and Steel are on the case.
Harry Potter - Hogwarts: A Future By Cyprian Gadigan
A new witch is born.
Original - The Night of Nights By Simon
The party will go on.
Gorgeous Carat - A Magi's Gift By Arwensong
Ray and Florian think about the true meaning of gifts.
Return to Challenges