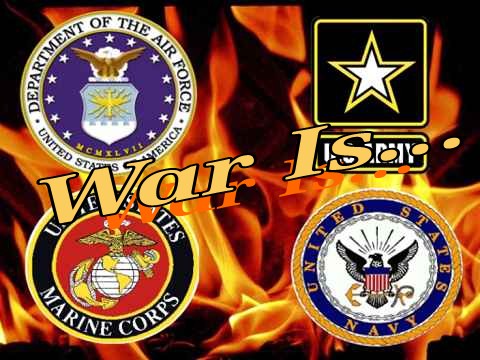 Banner by Sabina
QAF - For Those Who Serve by Arwensong
Brian feels compelled to help a veteran.
Original - It's What Happens Afterwards by Cheryltx
What does war do to those who fight?
QAF - War Is Hell by Dale
Afghanistan touches Brian and Justin.
Gorgeous Carat - Deception in the Name of War...and Love by Arwensong
This story is set during WWI when the evil of chemical warfare first saw wide use. May it never reappear among civilized people.
QAF - Don't Ask, Don't Tell by O.G. Walton
Brian and the gang discuss 'Don't Ask, Don't Tell'.
Original - Consequences by Sabina
An original drabble based on a true story about the consequences of war.
QAF - Highway of Heroes by Thyme
Post 513 - Brian and Justin are of course together. Justin is accompanying Brian on a business trip to Toronto.
Original - Composition by Astra Plain
Inspired by a prompt in another fandom. Some things are essential to life.
NCIS - Over There by Cheryltx
(DiNozzo/McGee) - Tim's computer skills are needed in Afghanistan.
QAF - On The Home Front by Dale
Justin talks to a WWII Veteran.
Better Friends and Lovers Universe - The Longest War by Arwensong
Luke finally faces his family.
Original - Yellow Ribbons by Cheryltx
Two wars, two different reactions.
QAF - Painting Without Hands by Thyme
Jennifer takes Justin to visit a relative. Probably late Season 3 time period.
The Sentinel - In Between The Hell by Sabina
Blair and Jim discuss war experiences.
QAF - Friends in High Places by Dale
Justin meets an almost "general".
Return to Challenges