The Magnificent Seven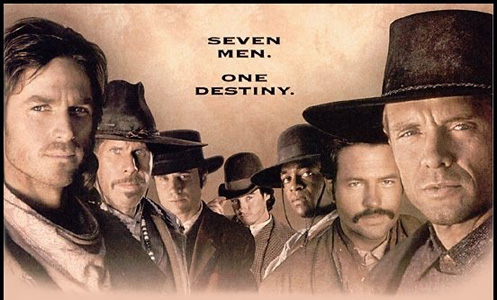 Old West Verse. Ezra decides that it's time to move on from Four Corners.
Complete
Vin tries to tell Ezra his true feelings.
Complete
Ezra thinks about his relationship with his father.
Complete
Several challenges from 2006 for the group DunnesDarlins
Complete
A Magnificent 7/SVU Crossover.
Complete
Let's Hear It For the Boy (A Short Story)
A song fic that shows Ezra's feelings for Vin.
Complete
Ezra finally finds love.
Complete
This is my contribution for the tenth anniversary Magnificent Seven Challenge - http://www.blackraptor.net/10thAnniversary/index.htm
Warning: One of the main characters is DEAD.
Complete

Shades of Death Road
Crossover with Supernatural
JD and Ezra go missing on a deserted stretch of road. With help from the Winchester Brothers, the rest of Team Seven go searching for their missing teammates.
Complete
Ezra Standish is a superstar and ends up requiring the assistance of four bodyguards. Through all of the danger, star obligations, and hostile feelings, he ends up finding a love that he never thought would be possible.
Complete
Betrayal
While Ezra is undercover, Chris commits the ultimate relationship betrayal. Will Ezra and Chris' relationship survive, or is there someone else waiting for their chance?
Complete
Return to Lady Raven's Fanfic