The List
Part 5
Babylon.


Babylon on a Friday night was, as far as Brian was concerned, Babylon at its best. Calvin was the DJ and he was the club's finest. There were plenty of guys who, after a hard week of work, just wanted to get off and usually the gang was all there.
Today there was the added bonus that Emmett finally let go of Sunshine, though not until kissing him below the ear…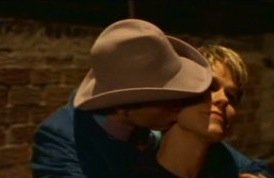 He'd decided, in Sunshine's honor, that tonight he would only drink beer. He didn't want to get wasted since he'd said he would be giving him a ride home. He did take a small hit of special K. It made dancing so much more fun…

Emmett took Sunshine to the floor right away and Brian leaned back on the bar, watching them. Holy fucking shit. The kid was incredibly sexy and he could really dance. Aunty Em looked thrilled by that discovery and would not be letting him get away anytime soon. Brian looked around. He needed to relax and was also getting that fun touchy feely itch from the K.

A good-looking trick was watching him, with a 'Please pick me' look on his face. He had nice thick hair. Brian took him to the backroom and got his cock sucked. The blowjob was OK, but what he really enjoyed was the feel of the guy's thick mane between his fingers. He fucking loved drugs…

When he went back inside, Sunshine was with Blake and Ben, shaking his stuff. Like the two of them, he'd done away with his shirt. Blake and Ben were great dancers and had the advantage of both staying stone cold sober the entire evening, making Sunshine the perfect companion. Brian's eyes took in the boy's delicate build and his gorgeous blond hair illuminated by the golden lights Calvin was using with the music. His skin looked like perfectly smooth white silk and it was almost glowing, seemingly from within.

Brian knew it was partially the drugs talking, but he yearned to run his fingers through that hair and his hands over that skin. He joined the three of them on the dance floor. Ben put his arms around his neck, effectively making him look up. Brian smiled at the man. Ben had been making sure Sunshine was not molested by anyone in the bathroom at Woody's when Brian had given his little "Watch out for Sunshine" speech, and yet, here he was, the most protective of all of them, checking Brian's pupils to see how far gone he was before letting him get close to the blond, something none of the others would have dared to do. Brian really loved Zen-Ben.

It must have been pretty clear Brian was as sober as anyone had ever seen him at Babylon on a Friday night because Ben smiled at him and moved out of the way, concentrating on Blake, his usual dance partner, thus giving Brian access to Sunshine. The kid smiled at him and Brian was damn glad he was almost sober. That smile went straight to his cock and ordinarily that would have been more than enough for him to grab the boy and take him back to the loft.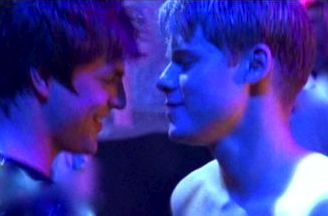 Brian danced closer and closer to Sunshine, seeing laughter in the blue eyes as the young man realized how truthful Brian and Emmett had been about his inept dancing. Brian shrugged and laughed with him, before pulling him close and putting their groins together, his forearms resting on Sunshine's shoulders. Now he was all right. He could feel the rhythm in his core through Sunshine's hip gyrations, and his dancing was suddenly perfectly adequate.

After a slight hesitation, Sunshine rested his hands on the top of Brian's arms. Obviously he was a little thrown by the fact that Brian had no qualms about pressing his prominent erection against him, or leaning down until their foreheads touched. Oh well, Brian figured he'd get used to it. All the others had…

They danced for a long time and though Brian could tell Sunshine was now just as hard as he was, he made no move to act on it. It meant nothing. It happened with Emmett and Michael all the time. How could the kid help but get hard with Brian grinding his dick against him? Hell, when Brian was 21, he would get hard if a cat rubbed against his legs, and he was fucking allergic!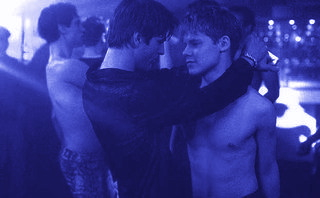 After a while, Brian needed to relieve himself and drink some water if he didn't want to dehydrate from the Ketamine. He leaned to Sunshine. "I need to go get a drink. Later."

"OK."

Brian left Sunshine on the dance floor, eyes closed, letting the music take over as he went to get his water. He made sure Ted had Sunshine in his line of sight, tapping him on the shoulder to let him know he was leaving him in charge, and made a beeline for the john. Some hot black twink washing his hands checked him out and smiled that smile. Brian still had a boner that would make urinating difficult, so he pushed the boy inside the stall, turned him around and took down his pants. He was in luck. The kid was going commando and had a plug in place. He sheathed his dick, took out the plug and fucked the twink hard and fast.

The black kid came all over the stall wall and the spasms of his rectum milked Brian's orgasm into the condom. The trick was still catching his breath when Brian finished emptying his bladder in the toilet, flushed, zipped up and left the stall. He washed his hands and went back inside, smiling to himself that even while babysitting his favorite waiter, he was managing to get off just fine, thank you very much.

Ted and Blake seemed to have disappeared somewhere, but apparently Emmett was now on duty. Sunshine was dancing with some good-looking very short-haired club boy. Buzz cut was wearing a jean shirt and tight leather pants. He had a good body and a nice hip swivel move. He and Sunshine were only about ten feet away from Emmett and a tall, muscular dark haired guy Emmett was dancing with nice and close. Brian laughed to himself. Emmett was setting himself up for a big disappointment. His dancing partner may have looked like a brutal top, but he was actually a bigger bottom than Emmett himself… and for a good reason: he had a puny little cock.

Buzz cut bent down and said something to Sunshine, who smiled but shook his head no. The guy leaned over again and this time, Sunshine was not smiling when Brian, from his spot at the bar, read his lips clearly: "Fuck off." Both he and Emmett were on the move immediately but the kid had apparently gotten his point across because Buzz cut turned away and danced in another direction.

Brian and Em met halfway there and started dancing together, both laughing a little at how protectively they had reacted. The guy Emmett had been dancing with had misread his sudden motion away from him and had slunk away. Brian rested his chin on Emmett's shoulder and told him about his erstwhile dancing companion and his puny dick and he quickly had Emmett in stitches. He directed his friend's attention to a medium build guy with very short black hair and brown eyes whose forearms were leaning on the staircase railing. He looked a bit shy, was dressed as if he'd just gotten off work from some boring desk job and he needed a shave.

"What would I want with him?" asked Emmett, completely unimpressed.

"Emmett. Would I steer you wrong?"

"Brian, you're a top. How could you possibly know anything about another top?"

"He's a firefighter. His name is Marvin. He probably just got off a 48 hour shift and is horny as hell and I've fucked next to him in the baths. He had his trick crying, Emmett, literally crying his eyes out he had him feeling so good. Trust me on this…"

Emmett raised an eyebrow, shrugged and left Brian, sauntering over to the less than impressive man on the stairs. Brian turned around. Sunshine was dancing with a tanned, shirtless and muscular young guy. He was smiling and looked at ease. Brian walked back to the bar. Mikey and Ben were making out, not exactly a common public sight. Both had their eyes closed and looked totally into each other. Brian turned away.

He recognized that little twinge in his gut for what it was. He was really happy for both of them, they belonged together, but somehow, somewhere, he wondered why he'd never felt what they were feeling, why no one had ever made his heart beat faster and his palms sweat. He guessed it just wasn't for him. He was born to fuck, not to… whatever it was those two had together.

He looked towards Sunshine. Muscle boy was awfully close now and had a hand on Sunshine's ass, which Sunshine promptly removed. Only a minute or so later, the hand was back, pulling Sunshine closer and the guy was nuzzling his ear. Brian could tell, only because he was paying attention, that the tenseness in the triceps of Sunshine's arms showed he was trying to push his dancing partner back, but the guy was about six feet tall and had a good thirty pounds of muscle on the blond boy, so it did little good.

Brian crossed the dance floor very fast, in part because he was Brian Fucking Kinney and the crowd parted for him like the Red Sea had for Moses, but also because, without realizing it, he did not move with his usual nonchalance. He placed his body flush against Sunshine's back, leaned forward and whispered in muscle boy's ear, "Fuck off". The guy looked at him, ready to send him packing, when he suddenly recognized whom he was about to tell off. He raised both hands in a soothing gesture as he stepped back so fast he actually stumbled. "I'm gone, Kinney, no problem," he said. He turned around and disappeared into the crowd, moving away from the angry hazel eyes as fast as he could.

Sunshine turned around and rested his head on Brian's shoulder. Brian's arms came up without conscious thought, embracing the smaller man protectively, and he laid his cheek against Sunshine's blond hair. It was soft as silk and smelled of fresh air and youth. The small body fit perfectly in his arms, and Brian hugged him closer. He ran the palm of his hand up and down Sunshine's back, the skin he touched incredibly soft. That felt so fucking good. Way too fucking good… He backed away. He had just been trying to reassure Sunshine, of course, because that guy must have been pushy enough to freak him out a little, that's all he'd been doing, nothing more…

Sunshine was looking at him with searching blue eyes, biting on his (ever so plump, pink, and kissable) lower lip. Then he smiled, a teasing smile and the world was normal again. "Oh! Brian," he joked. "You saved me from the bad, bad man…"

Brian chuckled. "I should have let him maul you, you twat…" They were dancing together now, hips once again touching, but casually.

"I was two seconds from kneeing him in the groin," admitted Sunshine, smiling. "Your way was so much better, so much less of a fuss." He looked curious. "Why was he so scared of you?"

Brian actually thought about that. "To tell you the truth, I don't really know…" he admitted, nonplussed. He thought about it. "This is Babylon. It's my turf, I guess. Maybe it wasn't fear, just respect. I'm Brian Fucking Kinney…" He shrugged. "Who the fuck knows? Maybe he thought if he didn't scamper, I'd never do him and it's been his biggest dream ever since he found out he was a fag?" he added, tongue in cheek.

"Of course. That must be it," said Sunshine, amused. "Or maybe he's afraid of the anaconda you make no secret of keeping in your pants," he added, bumping his own cock against Brian's renewed erection.

Brian laughed, and then, possessed by who knows what demon, he leaned over and whispered in Sunshine's ear, in a low, sexy voice, "What about you, Sunshine? Aren't you afraid of the anaconda I keep in my pants?"

It took Sunshine a moment to answer, but when he did, his cloudless eyes were looking right into Brian's and he had a carefree smile on his lips. "Not afraid at all. I've been told it only attacks people whose name you don't know, who you've never talked to and to whom you'll never give the time of day. So I'm perfectly safe."

Brian laughed again. "Right you are Sunshine. You are perfectly safe." Then, for some reason he could not fathom, he could no longer withstand Sunshine's open gaze. He had imagined for a moment that he could see wistfulness in the beautiful blue eyes and his echoing response was unsettling. Unwanted images were suddenly playing in the back of his mind. He saw himself fucking Sunshine face to face to watch the play of emotions in those blue eyes, to kiss and caress that beautiful face, holding back his own pleasure to prolong the moment, enjoying the closeness instead of rushing to completion, the familiar physical act meaning something more than mere physical release.

He was grateful when, out of nowhere, Blake and Ted rejoined them. They all danced together, goofing off, Brian losing the beat twenty seconds after letting go of Sunshine but not really caring. Ted couldn't dance for shit either. After a while, they left Blake and Sunshine to dance together and went back to the bar. Brian had another beer and they wished a good-night to Mikey and the good Professor who were heading home. They would all meet at the gym in the morning anyway.

Brian, needing a quick reminder of what being queer was all about, took a guy who was cruising him to the backroom for a blowjob. He was pretty much sober now, an interesting experience in itself; he enjoyed the blow job a lot, though the back room seemed a lot seedier than it did under the cover of a good buzz. When he came out again, glitter was raining from the ceiling and it stuck onto the sweaty torsos of both Blake and Sunshine. They looked beautiful. He rejoined Ted at the bar.
Ted's eyes were glued to his Blake. He was licking his lips and was sporting an impressive boner. Ordinarily, Brian would not have noticed. He always dismissed Ted from his mind when it came to sex, but there he was, horny as all get out and obviously wanting his man. Ted caught Blake's eye and Blake gave him a slow sexy smile.

He talked to Sunshine and they both made their way to the bar. They each got water to drink and Ted and Blake were holding hands, their fingers intertwined.

"Brian, we're heading home," said Ted, without having to consult his partner.

High-Brian would have made some crack about the geriatric set needing its sleep, but tonight, he was well aware of the sexual chemistry between the two. They were going home to fuck. Yet, after watching the way Blake whispered something in Ted's ear as he kissed the skin behind it, and the burning look Ted had as he pulled Blake into a passionate opened mouth kiss, he revised that thought… They were actually heading home to make love. Fuck. This staying sober was for shit. He was thinking like a fucking lesbian.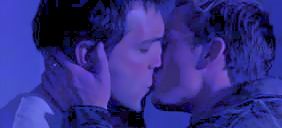 He'd seen Emmett head for the door with Marvin a while back. There would be no more tricking for Brian tonight, he was the last remaining babysitter. He smiled at Sunshine and rolled his eyes playfully at the retreating backs of Ted and Blake. "Ready to go too Sunshine? It looks like all the lovebirds are abandoning us…"

The young man smiled and put his shirt back on. "Yeah, I'm tired. I have the morning shift at the dinner too. I need to get home."

A slow dance came on, a rarity at Babylon. Brian grinned. "Just this one more then, Sunshine. You promised to save the last dance for me…"

They walked into the fray and Brian took the small young body in his arms, holding him tight, his cheek against the blond silky hair, the boy's soft breath against his neck.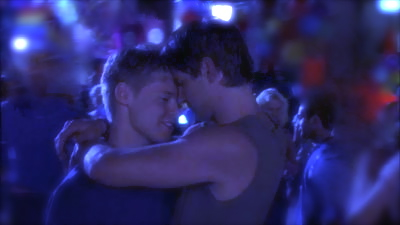 One of Brian's large hands went to the narrow lower back and the other tangled in the silky blond hair in the back of Sunshine's head. Sunshine's arms wound around Brian's body, his hands somehow maneuvering under Brian's shirt, and lying on his skin, feeling unusually and pleasantly cool in the heat of the club. They swayed to the music and a fleeting thought passed through Brian's mind that strangely, this was the best he'd felt all night, including the blowjobs and the fucks he'd already pretty much forgotten. At the end of the song, they parted and smiled at each other.

Brian took the boy's hand and led him out after they got their coats back. The drive to the tattoo parlor was very short. "Thanks for the pool lesson and for watching my back in Babylon," said Sunshine. "I was wrong to think I would hate it. With all of you there, I actually had a great time."

"It's always more fun to go clubbing with friends" said Brian, remembering what Sunshine had said before, about it not being something he wanted to do because he didn't know anybody.

Sunshine smiled shyly and blushed. That boy could never hide his feelings. "You think they think of me as a friend? You've all known each other for so long…"

"You've basically been adopted into the family, Sunshine. I heard Mikey invite you to Sunday dinner at Debbie's earlier. You can't get rid of us now, and believe me, there are times you'll want to…"

"I'm still working mornings all next week. Will you come to the diner for lunch?" Sunshine was watching his hands for some reason.

"Lately, it's the highlight of my day," answered Brian teasingly. Sunshine snorted, then gave him his best smile as he started opening the door.

"Hey. I can pick you up on Sunday and take you to Deb's if you want." The street lamp illuminated Sunshine with a soft glow and there were a few pieces of glitter shining like diamonds on his beautiful face.

"It's OK. Ted and Blake are giving me a ride."

For some reason, Brian was scouring his brain for something else to say, something that would keep Sunshine in the 'Vette a while longer, but then he remembered the kid had the morning shift at the diner and had to get some sleep. "See you later, then, Sunshine."

"Later, Brian. Thanks for the ride home." They stared at each other for a few seconds and Sunshine got out, letting some arctic night air into the car.

Brian waited to see the light go on above the tattoo parlor before starting home. Considering that the entire evening had been really nice, he felt weirdly unsettled. He had no intention of finding out why. This sobriety shit was a bitch. He went to the loft, lit a joint and kept smoking weed the entire time he watched "Fedora" on A&E. Soon, he felt better, nicely numb and relaxed. After the movie, he showered, brushed and went to sleep before he lost his high.
********

In the morning, he woke up without a hangover for the first time in… a long time. He drank some coffee and headed to the gym where he met the others. While working out, they were regaled with Emmett's recounting of his evening. Marvin had performed as promised, and more.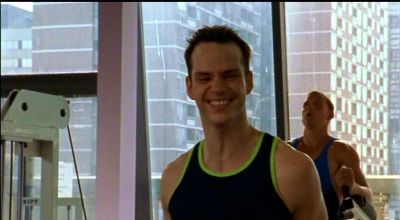 Emmett was on cloud nine, funny and entertaining, as only he could be when he was in a great mood. Except for Brian and Ben, who took their workout pretty seriously and stayed behind, they all went to breakfast afterward. Brian was a bit anxious about his weekly weigh-in before his shower. He wanted those three ounces gone.

Ben and Brian had a routine, spotting one another, concentrating on form and pushing each other. After a nice, hard, weightlifting session, the result of the weigh-in was good. Brian had actually managed to lose almost a pound this week, and was now eight ounces below his ideal weight. In the shower, Ben pointed out to him that he had consumed a lot less alcohol than usual and that may have had something to do with it.

As they sat sweating in the steam room, and with Brian ignoring the come hither looks sent his way by several towel-clad men, Brian asked Ben, "Do you ever miss the life? You used to be a player…"

"I think about it fondly sometimes. Can't say I miss it, though. I'm happy where I am."

"Did you ever think… Well, did you ever, in those days… You know, before Mikey…" Brian wasn't even sure what he was asking.

"You mean, when I was a club boy, did I ever think I would be happy being so domesticated? Yes and no. I loved the life, but it's not like I didn't want something more. It's just that I didn't think it could ever happen to me. I didn't think I had it in me, really. But I was wrong, obviously. Why?"

"I'm pretty sure it won't happen to me. I really don't have it in me. I have too much baggage. Who'd put up with my shit anyway?" joked Brian, trying to dismiss the whole conversation. What the fuck was wrong with him, anyway?

Ben looked at him soberly. "We all have baggage, Brian. Do you think I thought I'd ever have a chance in hell, no matter if I wanted it or not, once I found out I was positive?"

Brian was quiet for a while. At least, that was one piece of baggage he didn't carry. Then his mouth seemed to speak on its own, evidently without any input from his brain. "I've been eating lunch with Sunshine."

Ben just looked at him.

"I like talking to him." Shut up, shut up, shut up, said Brian's brain, but his mouth had apparently declared its independence. "I liked teaching him pool at Woody's." Fuck. Will you shut the fuck up already? "We danced a slow dance last night and holding him while we danced was better than any of the fucking I did yesterday." His mouth's rebellion seemed over, finally. Brian closed his eyes and rested his head against the tiles, exhausted.

"That's good," said Ben.

Brian sighed and was surprised at the raspy and strained quality of his own voice when he said, "How can it be good, Ben? He's 21 years old; a beautiful, beautiful boy, with his whole life ahead of him, full of enthusiasm and interests, so sweet, and I'm… me."

"And what is so bad about you, Brian?"

"I'm 33. I spend my life working and fucking. My main concerns right now are to nail the Kendrick account and find some guy named Justin Taylor so I can fuck him to win a bet. I'm a real prize."

"Is that really all you think you are, Brian?" Ben put his hand on Brian's shoulder. He was such a touchy feely prick. "Let me tell you about the Brian Kinney I know. He is the best friend any man could want; loyal and generous to a fault. He is completely honest, if sometimes brutally so. Against pretty steep odds, like the fact that one of his son's mom's shows him little respect, he has managed to be a great dad, who loves his kid, his kids, to death, and would do anything for them. He is a remarkably successful businessman, brilliant at his job and has managed to overcome a pretty shitty past. He is forgiving, giving people second chances when most others give up on them, and he once put everything he owned on the line to prevent the wrong man from getting into office, almost losing his job in the process."

Ben squeezed his shoulder. For a minute, Brian had a hard time keeping his breath even and he was oh, so glad his eyes were closed. Ben could be a really annoying fucker.

"Sunshine could do a lot worse, Brian, but not a lot better. Why don't you allow yourself to pursue this and see where it goes?"

What the fuck did Ben know about anything? Besides, who said he was even remotely interested in that fucking kid? God, you couldn't have a conversation without people jumping to fucking conclusions. Brian opened his eyes, to find the buff hunk sitting across from him staring at him and licking his lips.

"What the fuck are you talking about, Ben?" he asked, getting up. He dropped his towel and the hunk followed him into the opaque steam at the back of the room.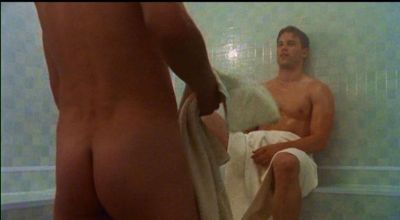 *********

Brian spent the afternoon with his son, building elaborate block towers for Gus to then demolish with glee, reading him about twenty books, wrestling with him on the carpet of the boy's bedroom until Gus took his two hour nap, sprawled on his daddy's chest.

After he got home, he found a trick for the evening on the Internet. For about a minute, the guy actually thought he was a top. Brian was happy to convince him otherwise, again and again. At two, he booted the guy out and went to bed sober for the second evening in a row.

On Sunday, he worked on a couple of presentations, rehearsing the Kendrick's one again and again. Appearing effortlessly relaxed and debonair during a pitch, which was his trademark and was incredibly effective, actually required a huge amount of preparation.

Afterwards, having pretty much exhausted his usual resources to find the man, short of hiring a PI that is, he googled "Justin Taylor". There were a bunch of useless articles on some brain-damaged kid who had barely survived a bashing and others on some settler in Minnesota who had started a sect in the 1820's. Fuck.

He had already checked a while back that there were no Justin Taylors in the phone book, but he did it again, searching the business pages this time. Nothing. There was a big half page ad for Taylor Electronics and it sucked big fat hairy ones. He took down the poor schmuck's name and number and promised himself to cold call him Monday, and offer his services.

When it was almost time for dinner, he put on his best black jeans, a nice black Prada pullover in a wool and silk blend and his favorite Gucci ankle boots. His hair looked perfect. He looked fucking hot, though why he should care… He put on his leather jacket, grabbed his keys and cell phone and left for Debbie's.

TBC...
Return to The List