The List
Author's Notes: I would like to give warm thanks to my betas for this story,
britinmanor who had to put up with my quirks, and
toto_too514 who is like… my cosmic twin in writing? There is not one word that she changes, one correction that she makes that does not make the text closer to what I wanted it to be. She also has called me on inconsistent character development, and has given me incredibly to the point feedback, which has made this story flow and hold together better.
foreverbm made my awesome banner. As a special thank you, I have made Ben and Michael a strong couple, full of nothing but positive influence and support to Brian. It was fun to do so, and I hope she likes them!
Apology: I know some of you cringe at Bottom!Brian, and I want to make it clear that in this story Brian is definitely, absolutely, unapologetically a top, just as he was in canon. Please persevere with the story, and know that the one instance of Bottom!Brian is the exception that confirms the rule…
********

Part 1
Sometimes you have to give to receive.



Brian Kinney and Brandon Parks both worked for Vangard. Brian had earned his partnership after Vangard had bought his old company, Ryder, and he had managed to snag the Brown Athletics account, which had always eluded his new boss, Gardner Vance. Brandon, an import from Vangard-Chicago, had earned his by getting Heller Booksellers, an equally valuable account.

After Brandon had transferred to Pittsburgh, the men had hit it off right away. They were both gay, both very hot, both tops, and both unapologetically promiscuous. They enjoyed an easy, immediate friendship, based on their similar interests.

Gardner Vance had been smart enough, however, to constantly compare and contrast their successes. He was no fool. He understood their nature, their innate desire to be the best and it was in his best interest to pit them one against the other.

So they had started competing at work, each trying to bring in the most new accounts, the best campaign results, and the most revenue – thereby making Vangard a fortune in the process. For a few months it had been enough; but since their strengths in the professional arena were pretty much equivalent, there was not enough difference to demarcate them.

So next, they began competing at the gym in the Vangard office building; on the treadmill, in the weight room, in the pool. Once again, neither of them really could take a definite lead.

Finally, they took the competition to Babylon, their favorite dance club. They competed for the most trips to the back room, the most fucks, and the most blowjobs. It was starting to get out of hand when one evening, as they were sitting together at the bar at Woody's, not quite drunk and only just a little high, they both admitted they were sick of the rivalry that was straining their friendship.

They therefore decided, with typical alcohol and drug induced logic, on a competition to end all competitions. There wouldn't be bragging rights, nor even any kind of public recognition. This would be just between the two of them. The loser would eat crow and they would be able to go back to the easy camaraderie they had known at the beginning of their acquaintance.

The bartender at Woody's was amused by the idea and had proposed to them a list of twenty names. Both Brian and Brandon had decided to each have 5 vetoes, leaving them with just ten finalists. The first one of them to fuck all ten men would win. They had to seduce the tricks. They could not buy them, drug them or promise them future favors. They were absolutely forbidden to tell the ten people on the list about the contest. Brandon and Brian both gave their word, and shook on it, which considering the men's characters was a contract more solid than most. Brian looked at the list in his hand with a smile. He always enjoyed a challenge.


Todd Parker
Chuck Malcolm
Lamont Baker
Dean Nicks
Justin Taylor
Chris Van Horn
Michael Small
Andrew Cohen
Dave Hanson
Mark Panitch


Brian already knew seven out of the ten guys on the list and he was confident that five of those, five known bottoms, were ripe for the picking. He only had to offer and they would gratefully bend over for him. The other two were tops… but he could be very persuasive. He just had to figure out who the last three were, find out all he could about them and then seduce them; definitely not insurmountable tasks. He would enroll Emmett's help, since Emmett knew absolutely everyone. And once armed with enough information, he was confident he could seduce anyone. After all, he always had…

********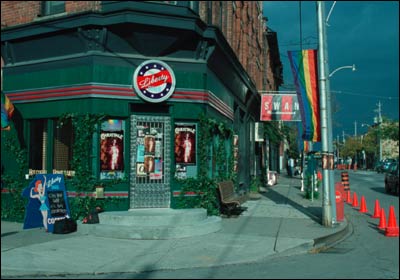 Even after all these years, Brian still had breakfast almost every morning with Emmett, Ted and Michael. Though now, more often than not, their little group was increased by the addition of Ted or Mikey's live-in boyfriends, Blake and Ben. Only he and Emmett were smart enough to still be flying solo.

The boys had all met Brandon, of course, but they thought of him only as Brian's friend from work. Brandon had his own pals and had shown no desire to be included in their weird little circle. They were all in on Brian's competition, of course, and though they pretended to find it anything from deplorable to asinine, they actually were completely into it, going as far as discussing strategy with him (as if he needed the help). He restrained himself from shooting them down, however. It would not make sense to alienate them as long as he needed their help…

It took him only six days to fuck his first seven quarries. He brought proof (action shots taken on his cell phone showing both the tricks and himself) to Max, Woody's bartender, who was their official referee.

From Ted (surprisingly), he learned that Dave Hanson was a bear and a well-known Dom who could be found nightly at Meat Hook. On the surface, fucking him was an apparent impossibility, but Brian had already thought of a plan.

Emmett had found Chris Van Horn, who turned out to be a transvestite. She actually lived the life of a woman, working at the Clinique counter at the downtown Macy's. Brian had met her, going there to shop for moisturizer (as if he would ever use that cheap Clinique crap). Chris had happily flirted with him. She was very credible and very attractive as a woman; convincing enough that the prospect of fucking her made Brian want to gag and his dick shrivel up as if he were swimming in the Volga. She had slipped him her phone number. He knew he would have to somehow grin and bear it, and soon, too... He still had not found Justin Taylor and was counting on the boys to keep an eye out for him.

********

On the next Saturday night, Brian predictably found Dave Hanson at Meat Hook, where the man held court. Hanson was considered a very talented Dom. About the same height as Brian, he carried at least fifty more pounds of well-defined muscles on his broader frame. He wore a leather jock strap, Doc Martens and a black leather mask. Brian was thankful the guy was at least in shape, and not one of those hideous pot bellied balding guys that haunted that joint, though the man was very hairy and at least 40 years old.

Brian spent the evening leaning against the bar, dressed in tight leather pants and an opened leather vest. He stared at Hanson the entire time. Several men noticed him and mentioned him to Hanson. It was 1:30 in the morning when Hanson came and leaned on the bar next to Brian.

"A little far from home, aren't you, Kinney?" he remarked. "Tired of vanilla? Finding yourself wanting something more… exotic?"

Brian had counted on the fact that the man would know who he was and he was planning to use that to his advantage…

"I'm a fag, Hanson, just like you. I am not afraid to admit that as such, once in a great while, I crave having a cock up my ass. And when I do, I find the cocks I want up my ass are not attached to the asses where I like to put my cock."

Hanson could not prevent his eyes from roaming over Brian's body, especially to his semi-erect cock, nicely showcased by the leather pants he was wearing commando. "I see…" he said, unconsciously licking his lips.

"Do you, now?" Brian's tone was almost bored.

"It has come to my attention that you have been following my moves all night," said Hanson, seeking confirmation.

"So I have."

"Should I read anything into that, Kinney?"

Brian shrugged, having apparently lost interest in the conversation. "You can make of it what you want. I'm bored with this place. I'm out of here. My jeep is parked in the alley." As an offhand comment he added, "I find it runs more smoothly if I let the engine warm up for about five minutes. See you around, Hanson."

Brian had been sitting in his Jeep for four minutes when a man wearing a long leather coat opened the passenger door and got in. In complete silence, they drove to Brian's loft, took the elevator from the parking garage, and entered the loft.

Once there, Brian stripped completely naked before going to the alcohol cart and pouring himself a generous serving of bourbon.

"Want something to drink?" he asked nonchalantly.

"I'll have a scotch," answered Hanson, taking off his coat. He was wearing jeans and a muscle shirt.

Brian put the glass of scotch on the bar, looked at Hanson and said, "You're overdressed."

Hanson laughed and stripped naked. He was well endowed and uncut. Without his mask, he was not bad looking either. He had very short grey hair and beard, sparkling pale blue eyes, and the wrinkles around his mouth and eyes were those of a man who liked to laugh and there was humor in his glance. He picked up his drink.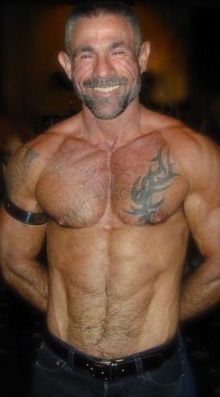 "I'm a Dom, Kinney. How do you expect me to get hard enough to fuck you if you boss me around?"

Brian walked to him, getting into his personal space. "I may want to be fucked, Hanson, but I'm no sub. You happen to be my type, but if you can't perform without that bondage shit, you can get the fuck out."

He put down his empty glass and backed off a few steps, spreading his arms slightly from his sides, giving Hanson a chance to have a good look at what was on offer. "So what will it be, Hanson? Are you coming, or going? Or coming and then going? Or coming and staying?"

Hanson, looking his fill, finished his drink in one swallow, put his glass down as well, walked forward, and placing a hand behind Brian's neck, pulled him into a kiss. It was not tentative, nor sweet. It was a man's kiss, passionate and animalistic, the kiss of someone who knows what he is about and it was enough for Brian to be completely turned on.

He put his hand on Hanson's lower back, and pulled him even closer, happy to feel that Hanson was just as turned on as he was. The hairiness of Hanson's skin was exciting in an exotic way and Brian would have loved to fuck him right then and there, but he knew that before getting to that there was a price to pay.

He backed off from the kiss and smiled. Walking into the bedroom, he threw a couple of condoms and a tube of lube on the bed and from his private stash got out a couple tabs of E and a couple of bumps that he placed within easy reach under his pillow. He popped the two tabs of E into his mouth, swallowed one and passed one to Hanson on his tongue when they resumed kissing.

He knew from talking to a few people when he was trying to figure what made the man tick that Hanson did not routinely use drugs. It made good sense. The man was a master Dom and had to stay in control at all times. It would be too easy for someone to get hurt during a 'scene' if the Dom got out of hand simply because he was too tweaked to know his sub's limits. So Brian knew he was taking a risk. There was always a possibility Hanson might spit the E out. However, Hanson seemed to decide to take a walk on the wild side. After all, the evening was quite out of the ordinary for him as well.

"Lie down, Kinney, I want to see you spread out for me," he said.

Brian complied, knowing that no matter who Hanson's usual tricks were, there was no doubt he was hotter than most of them.

"You are a beautiful fucker, you know that?" Hanson acknowledged, caressing his own erection lightly. "I'm really going to enjoy fucking you."

Brian smiled at him. "I certainly hope so. Show some restraint though, it's been quite a while…"

Hanson lay down next to him. "I may be a Dom and enjoy playing with whips, Kinney, but I'm sure you are aware it also means I know how to be gentle."

He ran his rough and callused hands on Brian smooth sides and it was not an unpleasant sensation. Brian wondered for a moment what Hanson did in real life. They kissed again, Hanson caressing his body the whole time. He turned Brian over as if he weighed nothing and Brian heard the pop of the tube of lube being opened. Hanson prepared him thoroughly and efficiently. Brian was able to tell when the E hit and Hanson started rolling because he suddenly began waxing poetic about Brian's ass.

"Beautiful, beautiful ass, so tight, so soft. I'm going to fuck that ass, Kinney, it feels so soft and warm and sweet in there…"

Brian knew he was ready, because Hanson had three fingers gliding smoothly in and out of his ass, but Hanson seemed too mesmerized by the pleasurable sensations on his fingers to switch to fucking him with his dick. Brian turned over onto his back again, his feet planted on the mattress and his knees wide apart. Hanson did not protest, but just smiled, continuing to finger fuck him. Brian reached for Hanson, pulling him up between his legs for a heated arousing kiss. Then he helped him back upright on his knees, rolled a condom on his dick, lubed it generously and told him, "Fuck me already, and check out how nice my ass feels on your dick..."

Hanson smiled at him. He was high but not so high he didn't appreciate the privilege he was granted. He slid gently and carefully into Brian, watching his face, making sure he was not hurting him. It felt fucking good.

"Oh, yeah… That's it, Hanson, god, you're big. Feels so fucking good…"

And it did. Brian did enjoy getting fucked once in a while, especially by someone who, like Hanson, knew how to prepare him and knew how to fuck. When the man started moving, Brian recognized the care of a Dom who knew just what the limits were and how to read his partner. Once Hanson was sure of his welcome, he started fucking Brian in earnest, sliding along his prostate, kissing him while keeping his weight off of him, in complete control. He was fantastic.

Brian lubed his hand and sliding it between their bodies, started jerking off in time to Hanson's motions. He could feel he was getting close. Hanson was definitely enjoying himself, the E adding a new dimension to his sensations but taking away none of his skills or control.

"So fucking good, Kinney, so fucking tight. Your skin is like silk and you're so fucking beautiful. Your dick is gorgeous. Come for me, I want to see your face when you come…"

Brian concentrated on his building pleasure. Hanson really was amazing, and soon, Brian was coming hard, spraying cum all over his chest and neck. Hanson pushed into him once more and roared as he climaxed, kissing Brian voraciously again. He pulled out slowly and carefully and removed the condom. Smiling, he lay on the bed face to face with Brian, resting his head on his hand, the influence of the drug getting more and more marked, leaving him happy, relaxed, talkative and most importantly, open-minded.

"I'm so fucking high," he said, chuckling.

"You are as good a fuck as I expected, Hanson," said Brian, smiling as well. "Actually, even better than I thought you would be."

Hanson looked pleased. "You were so fucking tight. How often do you do this?"

It was Brian's turn to chuckle. "I don't know… Once a year? Less?"

"Why, if you like it?"

"Getting fucked feels good. It's every queer man's right and privilege, but I prefer to top. That's who I am… How often do you get fucked?"

Hanson laughed. "About the same."

"And don't you like it?"

"Of course I do, just like you, with the right top…but really good tops are hard to find. I'd heard about you, of course, the best top on Liberty Avenue, but I'm not about to show my face at that twink palace where you hang out to find you if I suddenly get the urge..."

"Well, I am here now…" said Brian, running his finger lightly down Hanson's hairy chest.

Hanson smiled in tacit agreement. "I guess this is both our lucky nights…"

They shared a bump of GHB, which made Hanson hornier than shit and too relaxed to care about much of anything else. Brian started sucking him off and preparing him at the same time. Hanson was enjoying himself, the drugs helping him relinquish power to Brian, loving the fantastic head and the stimulation of his prostate. He sighed in bliss when Brian penetrated him carefully, then closed his eyes and enjoyed the rare treat. Concentrating on the infinitely delicious ride, he did not pay attention when Brian took a picture of them with his phone. Just as Brian had, Hanson took great pleasure in being fucked by an expert and eventually came long and hard having hardly touched his cock.

"Fuck, Kinney," he said, all but purring as Brian caressed his relaxed body, knowing that with the drugs, the gentle touches made post coital bliss almost as good as the fuck itself. "That was fucking fantastic."

Brian smiled. "And a good time was had by all."

Quite a while later, after the GHB's effect wore off, they took a quick shower together and Brian put away the rest of his pharmacopeia. He got water bottles from the fridge and put them within easy reach on each side of the bed. Hanson drank some water, stretched and went to sleep. After drinking half of a bottle himself, Brian turned off the lights and slept as well.

Brian, who only needed about four or five hours of sleep a night, woke up first. He got up, dressed in jeans and a wife beater and put Hanson's clothes by the bed. Hanson must have awoken in the night and been smart enough to rehydrate, because the water bottles on his side were empty.

Brian brewed some coffee, poured half in a travel mug with a lot of sugar and put the rest in a thermos bottle that he placed on a tray with a cup, sugar packets and some nonfat milk. He placed the tray on the night table by Hanson and left for the gym. This was definitely not something he ordinarily did for a trick, but Hanson was not exactly a normal trick. They were two tops, masters at their individual games, who had enough respect for each other to come to an understanding for a single pleasurable night.

The door of the loft would lock automatically behind Hanson when he left, and though he did not like the alarm not being set, Brian figured he would be back in about three hours. He trusted Hanson not to rob him. After all, he knew where to find the man and he felt they had both had a satisfactory and uncomplicated evening. He was proven right when he came back from exercising with the boys. The cup and thermos had been washed, the milk was in the fridge, and there was a short note on the bar:


K,
Next time you get the itch, you know where to find me.
H.


Brian smiled, wondering how in hell Brandon would manage to convince Hanson to get fucked again before several months had passed. Though Brandon was recognized as a great top, he still had to make a real name for himself. He'd only been in the Pitts for a couple of years, whereas Brian had gotten his first blowjob at Babylon when he was 16. Five years younger than Brian, Brandon might be the heir apparent, but Brian was still the reigning king. Well, how Brandon managed to rope in Hanson was not his problem…

That evening, Brian went to Woody's. He showed Max-the-bartender, who looked pleasingly impressed, the picture he had taken mid-fuck the night before. Max promptly signed 'Dave Hanson' off of Brian's list. Brian immediately erased the picture. He had liked Hanson and could think of no reason he'd want to keep it.

This left Chris the transvestite (he shivered) and the mysterious Justin Taylor. Who the fuck was he?

Return to The List